Recent Blog Posts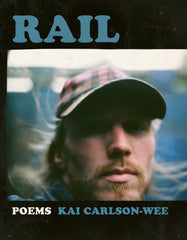 Hello readers! Today is the official publication of Rail by Kai Carlson-Wee, and Kai sent us a special playlist of songs that inspired his work.  Listen to the playlist on Spotify and read Kai's liner notes below. Enjoy! A note from Kai Carlson-Wee: Most of the poems in RAIL were started while I was traveling. They typically began as scraps of sound, lyrics I jotted down, images, impressions, which I then cobbled together later on. Obviously the poems I was reading would fuel the sound, but just as often the music I was listening to would influence the writing. The way I listen to music is sort...
---
The poems in Sky Country have resonated with readers of all backgrounds. Drawing on both the real and imagined experiences of her own family, Christine Kitano fills a gap in America's history by giving a voice to immigrant women whose stories have been forgotten by time.
---
Most people know Richard Foerster as a poet whose BOA books include Trillium (1998), Double Going (2002), and The Burning of Troy (2006). However a look inside most any BOA book on your shelf would reveal Richard Foerster as the typesetter behind BOA's beautiful finished collections. To use a rock-n-roll analogy, Richard is "the fifth Beatle" at BOA - a typesetter and proofreader extraordinaire who makes sure our books are as beautiful looking as the poems are beautiful to read. Richard recently gave an extensive interview with Connotation Press about his life and poetry. His responses revealed his perspective on...
---
Writer Josephine Carr of CarrTalks sits down with Wendy Mnookin for an inspirational interview. Radiating humor and wisdom, Ms. Mnookin shares her interests and fears, which inevitably become inspiration for her own writing. When asked if she would describe writing to be her calling or her career, Ms. Mnookin responds: "I feel that writing is my calling and teaching is my career. I write because I have to: that's how I attend to my world, how I understand and organize experience. I love my teaching, more so as I get older and feel I have more to share with my...
---
Janice N. Harrington, author of Even the Hollow My Body Made Is Gone and The Hands of Strangers: Poems from the Nursing Home, shares her influences for The Hands of Strangers in a Ploughshares interview with Patricia Caspers. Caspers prefaces the interview with a description of the first spellbinding reading of the book she heard Harrington give: "I was struck by her ability to write about her subject - the lives of the elderly and those who tend to them - with frank graces." Caspers comments on Harrington's unique and masterful delivery and the way she asks for audience participation during...
---
Search Blog Posts