Recent Blog Posts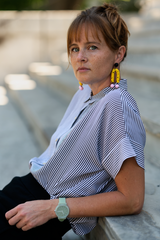 We asked our Spring 2023 authors to share about a food or drink to enjoy while reading their book, or one that appears often in their new collection from BOA. Margaret Ray is the author of the debut poetry collection Good Grief, the Ground, and below, she shares a little back story and a cocktail (or mocktail) that pairs well with her poems. Cheers, and happy reading! from Margaret Ray: "The three foods that show up the most over the course of GOOD GRIEF, THE GROUND are peaches, apples, and… meat.  I am interested in human carnivorousness and the baked-in reckoning with mortality that...
---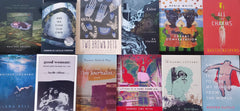 It's Women's History Month, and here at BOA we'd like to take this opportunity to celebrate our phenomenal women authors! Since our start in 1976, we've been a proud publisher of women, from Lucille Clifton, Dorianne Laux, and Brigit Pegeen Kelly, to the present day, with books from Alicia Mountain, Margaret Ray, Jessica Q. Stark, Mahtem Shiferraw, and Jeannine Hall Gailey publishing this spring. We're so excited to celebrate their work, and we're not alone! Take a look at some recent buzz for our women authors and treat yourself to some good books: Barbara Jane Reyes, author of Letters to...
---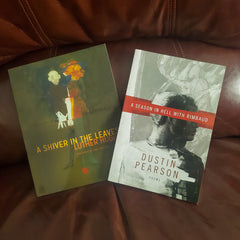 Here at BOA, we're celebrating Black History Month by highlighting the work of our Black authors! We asked each of our spring interns to write a short piece and select a poem from a recent or backlist BOA author. In Part 2 of 3, spring intern Justine shares about Luther Hughes' A Shiver in the Leaves and Dustin Pearson's A Season in Hell with Rimbaud! A Shiver in the Leaves by Luther Hughes  Luther Hughes' debut poetry collection, A Shiver in the Leaves, really caught me off guard. It has been a long, long time since I've read something as brutally honest and it restored...
---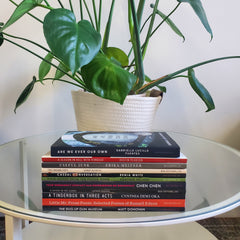 Here at BOA Editions we are celebrating another successful year of poetry and short fiction! As 2022 comes to an end, we've stopped to reflect on all the note-worthy titles released. Here are the top eleven books we think have been the best this year—though we might be a bit biased… Read on and don't forget to browse these titles in the BOA Bookstore! Useful Junk by Erika Meitner (April 5th, 2022)  In Orion Magazine, Marcela Sulak listed Useful Junk as one of the "28 Recommended Collections for National Poetry Month." Sulak says, "Here, as in her previous books, I'm...
---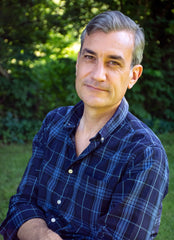 Matt Donovan is the author of The Dug-Up Gun Museum, which was published by BOA Editions on November 8, 2022. Donovan's documentary poems examine the paradox of a country plagued by gun violence yet consumed with protecting the right to bear arms. Read on to learn more about Matt and his new poetry collection through this self-interview!   What inspired you to write a book focused on guns in America? Simply put, the earliest iterations of this project grew out of a deep concern about gun violence in America. I wanted to try to understand our ongoing obsession with firearms, as well as...
---
Search Blog Posts