Recent Blog Posts
Not sure what BOA book to gift your friends and family? We've made up this Holiday Gift Guide to all of BOA's 2021 titles. Follow the flowchart below to learn more about our most recent publications, find these titles and others in the New Releases section of the BOA Bookstore, and get 25% off at checkout, now through December 13th! 
---
Each year, our staff looks forward to attending the annual AWP Conference. For those who aren't familiar, AWP is a 3-day gathering of 12,000 writers, teachers, students, editors, and publishers from all around the country. Along with roughly 550 readings, panels, and craft lectures, there is also a bookfair that hosts 800 presses, journals, and literary organizations. That is where you would find us—at our booth, selling hundreds of books, hosting book signings, and chatting with authors, friends, and fans of BOA. However, after careful consideration, we have decided not to attend this year's AWP conference in San Antonio. Out of...
---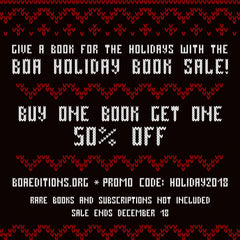 Still looking for that perfect gift for someone special in your life? BOA is here to help! This year, we are borrowing a beloved holiday tradition from our publishing colleagues in Iceland and are launching our very own Yule Book Flood with our 2018 Holiday Book Sale. Every year on the night of December 24th, people across Iceland give their loved ones a book for the holidays. Friends and families will gather together to spend the night reading and sharing their favorite passages. What better way is there to spend the darkest, coldest nights of the year than by sharing a book in the presence of...
Search Blog Posts