Recent Blog Posts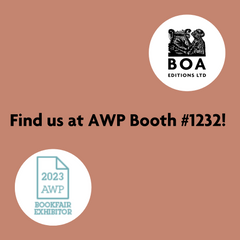 BOA will be tabling at AWP's Conference & Bookfair this year in Seattle, Washington! The 2023 AWP Conference & Bookfair takes place March 8–11 at the Seattle Convention Center, Seattle, WA. More information and updates can be found on AWP's website. You'll find BOA at Booth #1232! Below we've compiled lists of all signings, panels, and offsite events featuring BOA writers. We'll keep updating this list as we learn of new events, so check back later for more! Author Book Signings at the BOA Booth (#1232) Thursday, March 9 Alicia Mountain, author of Four in Hand at 10:00 AM - 10:30 AM Matt Donovan, author of The Dug-Up...
---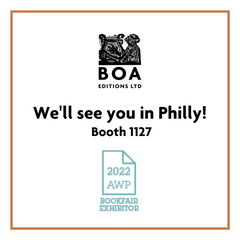 BOA is thrilled to be back at AWP this year at Booth 1127! Stop by to see us, get an early (and signed) copy of one of our forthcoming spring books and recent backlist, and grab a sticker! As we prepare, we wanted to share our signing schedule and all of our authors' panels here. AWP will be held from March 23–26, 2022 in Philadelphia, PA in the Pennsylvania Convention Center. More details can be found on AWP's website. Author Signings at the BOA Booth Erika Meitner, Useful JunkThursday, March 24, 2022, 10:00 am to 10:45 am  Justin Jannise, How to be Better by Being...
---
Each year, our staff looks forward to attending the annual AWP Conference. For those who aren't familiar, AWP is a 3-day gathering of 12,000 writers, teachers, students, editors, and publishers from all around the country. Along with roughly 550 readings, panels, and craft lectures, there is also a bookfair that hosts 800 presses, journals, and literary organizations. That is where you would find us—at our booth, selling hundreds of books, hosting book signings, and chatting with authors, friends, and fans of BOA. However, after careful consideration, we have decided not to attend this year's AWP conference in San Antonio. Out of...
---
The BOA team is excited to once again be participating in the AWP Conference and Book Fair! This year's conference will be in Portland, OR, on March 27–30. Visit us at AWP Book Fair booth 7093 near the Stage 1 Entrance. Join us for author signings, giveaways, discounts, and special events throughout the weekend, including the debut of our newest Spring 2019 books! BOA Author Signings Thursday, March 28 Geffrey Davis, author of Night Angler and Revising the Storm: 1:00–2:00 PM Friday, March 29 Jan-Henry Gray, author of Documents: 1:00–2:00 PM Keetje Kuipers, author of All Its Charms, The Keys to the Jail, and Beautiful in the Mouth: 2:00–3:00 PM Saturday,...
---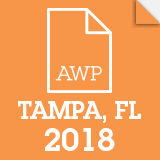 Come see BOA at the 2018 AWP Conference in Tampa, FL!
Search Blog Posts