Recent Blog Posts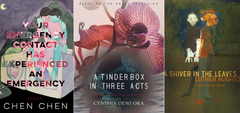 As Pride Month comes to a close, this is a great opportunity to support LGBTQIA+ authors by preordering their forthcoming books! Below you'll find poetry previews from our forthcoming fall 2022 titles and a brief look at some of our spring 2023 and fall 2023 collections!  Coming this fall:  "A Favorite Room" from Your Emergency Contact Has Experienced an Emergency by Chen Chen Down the sideways face, through the dilapidated waterfall,we entered late afternoon's house& a favorite room: the room of the butterfly skeleton. Intricate, delicate, somehow not an ounce of tragic.So beautiful we thought we could have perfectunswollen gums, be less predictablegay...
---
As Women's History Month comes to a close, check out some of the amazing recent BOA titles written by women! Below you'll find a mix of poems and book descriptions to pique your interest and get you excited to read (or re-read) these dynamic and heart-felt collections. Letters to a Young Brown Girl by Barbara Jane Reyes Excerpt from "Dear Brown Girl," What if I told you that you don't have to do as you're told. Yes, you can cut up the script they made you recite by heart with your cut up tongue. Yes, by those people, who wanted...
---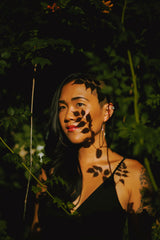 Rochester, NY— BOA Editions, Ltd. will publish A Tinderbox in Three Acts by Cynthia Dewi Oka as the next Blessing the Boats Selections title. Oka will receive a $5,000 honorarium, and her manuscript will be published in September 2022 as part of the American Poets Continuum Series. A Tinderbox in Three Acts is the second selection by Blessing the Boats Selections Editor-at-Large Aracelis Girmay. Girmay said of the collection: "I cannot say enough how critical this work is for its history, specificity, and devotion. At its center churn insurmountable, incomprehensible brutalities. These are the facts. But Oka and her fellow organizers, researchers, artists,...
---
Not sure what BOA book to gift your friends and family? We've made up this Holiday Gift Guide to all of BOA's 2021 titles. Follow the flowchart below to learn more about our most recent publications, find these titles and others in the New Releases section of the BOA Bookstore, and get 25% off at checkout, now through December 13th! 
---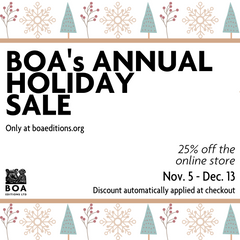 In case you've missed them, BOA is delighted to share these reviews of our Fall 2021, plus a few previews from Spring 2022 authors. Read on, and don't forget to stop by the BOA bookstore to get these titles for 25% off, now through Dec. 13! Ceive by BK Fischer (2021) "Review: Ceive," Harriet Books, Poetry Foundation From the review: "Fischer's postapocalyptic universe offers a terrifying glimpse into a future in which the world and the words we use to describe it are all in ruins." Among Elms, In Ambush by Bruce Weigl  "Nance Van Winckel reads "The Man In the Chair"...
---
Search Blog Posts