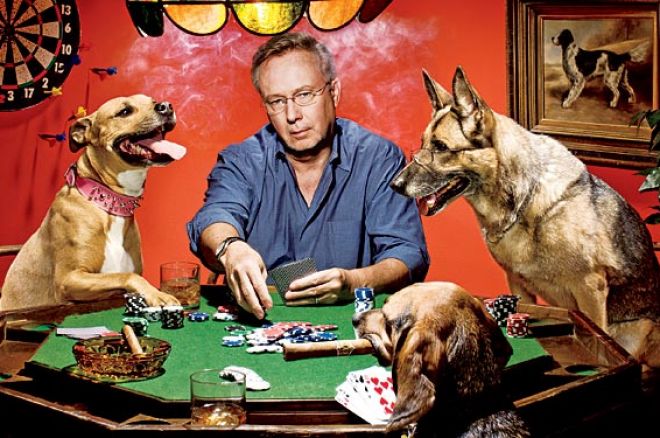 Photo courtesy of
PokerNews.com
Poker
News
just today released a new review of James McManus'
The Education of a Poker Player,
along with an accompanying interview with the author. Giving the book high praise, reviewer Chad Holloway says, "There's good reason why Jim McManus is often referred to as the 'Shakespeare of Poker.' "Any serious poker fan has read
Positively Fifth Street
, widely considered one of the best poker narratives ever written, while
Cowboys Full: The Story of Poker
is the most comprehensive text on poker's expansive history. Now, McManus has added another poker book,
The Education of a Poker Player
, to his already impressive résumé." A fan of McManus' earlier works, Holloway positions this latest book as something entirely new: "Released this month by BOA Editions, McManus' new book is neither a memoir like
Positively Fifth Street
, nor a historical text like
Cowboys Full
. Instead, McManus has ventured into the realm of poker fiction, utilizing strong influences from his childhood to construct a narrative on just how strongly religion, world events, and of course poker, can shape a young man, in this case Vincent Killeen (who you can safely substitute for McManus himself)." Offering his full recommendation, Holloway says, "At just $16.00 for a paperback, and even a more affordable $9.99 for the E-book,
The Education of a Poker Player
is well worth the price tag ... the stories in 
The Education of a Poker Player
 succeeded in providing an intimate look back at the universal motifs – guilt, rebellion, lust, and adventure — that permeate every boy's childhood." The interview following the review offers a more interesting background on McManus and his personal connection to the new book. Admitting that the young protagonist is something of a stand-in for himself, McManus says, "The timing and coincidence of some things is more dramatic in the stories than things that happened to me, but I've done just about everything Vince does." He adds that the war journal entries in 
Education
are taken verbatim from his grandfather James McManus' diary while he was aboard the USS Baltimore during the North Sea Mine Barrage of World War I. "It's sitting right here on my desk," he says. As for what he's is doing now that his latest book is finished, McManus says: "I'm working on a script drawn from the stories 'Detention,' 'Picasso,' and 'Romeoville.' I'm also covering a two-year-long case in Boise to decide whether poker is legal in Idaho because it's a game of skill. I'm testifying again in the jury trial, which begins in November." For the
complete review and interview
with McManus, head over to
PokerNews.com
. Just released this month,
The Education of a Poker Player
is available now at the
BOA Bookstore
.